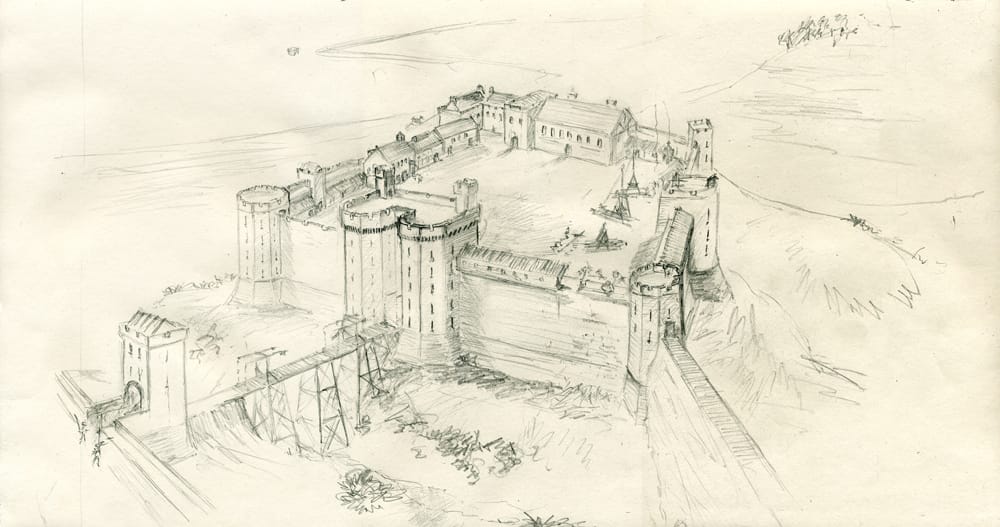 Probably built in the 1120s, Berwick Castle was one of the most important fortresses during the Anglo–Scottish Wars. King David made charters from Berwick and housed a royal mint. Edward I made his final judgement in the Great Cause here, placing John Baliol on the Scottish Throne in 1292. Baliol's failure to swear fealty to Edward four years later led to Edward's invasion of Scotland starting with Berwick. The castle was constantly modified until a damning surveyor's report in 1538 led to its abandonment in favour of the Edward VI Citadel.
A forgotten chapter is the building of a Jacobean palace by George Hume on the orders of James I and VI on his accession to the English throne. Not much is known of this building except that it must have been extremely high status with 'many fine pictures of stone' (statues). After Hume's sudden death in 1611, this was demolished to provide stone for the new Parish Church in Wallace Green. Most of what little remained was destroyed to make way for the new railway in 1840.
This video tour presented by local historian Jim Herbert uses maps and reconstructions to tell its story and shows there's more that remains than meets the eye.
Please be aware that videos will open for viewing at 00:00 on 10th until 19th September 2021.